SYNTELIAC ZCO table tennis blade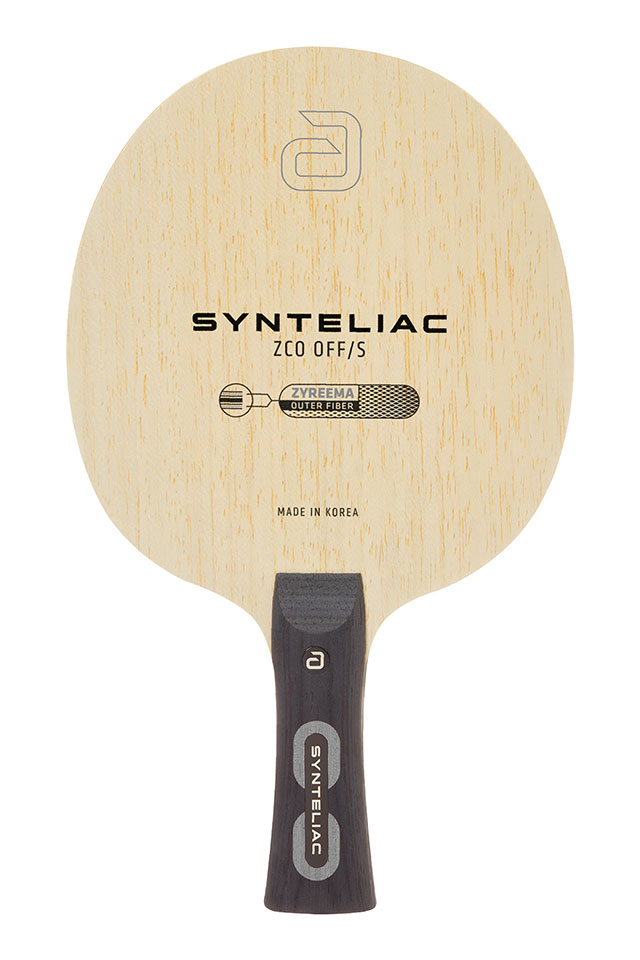 Super Premium Class – Synteliac ZCO The Zyreema fiber consists of synthetic polymers and is known for its tear resistance. 
Zyreema carbon layers provide a hard, crystal clear point of impact and high speed. Strategically placed fibers ensure maximum performance. Zyreema, twice as tear-resistant as standard aramid synthetic fibers, gives the Synteliac ZCO tremendous power and dynamics, as well as crystal clear sound. Zyreema carbon is felt to extend the ideal shot window (time) to give the ball maximum speed and spin. The Synteliac ZCO opens up new realms for your game in terms of speed, spin and variability. Your game will see a huge increase in quality. Weight: approximately 86 +-2 g. Size: 151 mm width, 157 mm length. Tennis wood thickness: 5.7 mm. 5 layers + 2 layers (Koto – ZCO – AYOUS – KIRI- AYOUS – ZCO – Koto). Made in South Korea.
andro is a passionate German table tennis brand and provides anything for the ambitioned player and his favorite sport. andro rubbers are designed, developed and produced in best "Made in Germany" quality. andro blades are formed by  finely selected veneers combined with special andro blade technologies. andro textiles give the main points in table tennis fashion: Innovative functional fibers and being tested for harmful substances are a given at andro.
andro meets every player's  demand with the right material. Find out what's best for you on this webpage and contact us: andro(at)andro.de